It is at the outside of tower, on the side wall, enabling to observe water distribution system and fill easily.
It provides to be peeped out of inside in the breakdown situation and controls. Also it enables personnel to get inside in maintenances.
Besides, It can be used for emptying dirty fills by its assembling close area of fills' underside on tower wall.
It is produced as easily opened –closed and water sealed way. For corrosion resistance, it is produced from AISI 304 quality rustproof steel/FRP.
Metal Service Window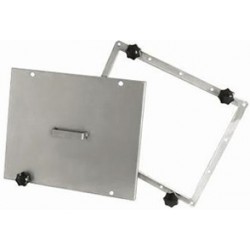 FRP Service Window